Following on the heels of yesterday's post, I'd like to cover a site today that gives away commercial games for FREE. Actually if you read that post and went to the site then you probably already know about this site. It's run by the same people, and actually it is just a subdomain of the same site!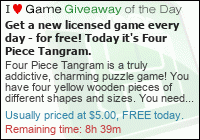 In the main part of the screen is the featured game giveaway of the day. You have to download and install the game during the giveaway duration for it to be valid(free). If you click the More link then you can read more about the features and view any possible screenshots of the game and/or links to the publishers website.
Just like the software site, the game giveaway site has an RSS feed so that you can subscribe and get updated everyday in your favorite aggregator and never miss out on a free game!